Movement and Mobility Workshop. Sunday May 31 – 2-6 pm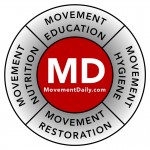 Kaizen Taki from MovementDaily.com will be joining us for a one day workshop on how to get the most out of your body. We incorporated his work about four years ago, and the results have been dramatic. Students have been more flexible, more comfortable and recovered faster from fatigue and soreness. If you are looking to move better, feel better or just want to learn how to decompress after a hard day, this is perfect.
We will be covering simple techniques for both pre-workout and post-workout recovery, as well as movement hygiene that you can do by yourself or with a partner. The partner work is incredibly effective and has become a regular part of our in-class work, so to get the most out of it, bring a friend, or even better a spouse.
Online registration
is available, or you can pay at the door . Gift certificates are available.
Warrior Life Martial Ars
6515 43rd Avenue Ct. NW